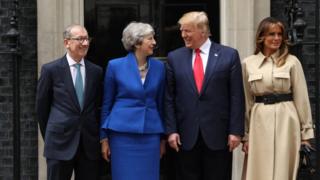 US President Donald Trump has said he believes Britain can have a "very very substantial trade deal" with the US after it leaves the EU.
Mr Trump spoke to business leaders at a meeting co-hosted by the prime minister on the second day of his state visit.
The pair are now meeting for talks, with contentious issues such as doing business with Huawei on the agenda.
Protests are expected across the UK with Labour leader Jeremy Corbyn due to address a rally in London.
Mrs May is also expected to set out the UK's position on climate change and Iran during the meeting with the president at Downing Street.
The breakfast meeting of five British and five American firms, senior ministers and officials at St James's Palace was held in a bid to boost trade links.
Mr Trump said he believed there was scope for further expansion of trade between the US and the UK.
"I think we will have a very, very substantial trade deal," he told Mrs May.
"This is something you want to do and my folks want to do," he added.
Mrs May said there were "huge opportunities" for Britain and the US to work together in the future.
"It is a great partnership but I think a partnership we can take even further," she told the president, adding: "Of course that is with a good bilateral trade deal."
Thousands of people are expected to join protests against Mr Trump's visit on Tuesday.
A "national demonstration" in London's Trafalgar Square will start at 11:00 BST (06:00 Eastern Time), while protests are also planned in Birmingham, Stoke, Sheffield, Glasgow, Edinburgh, Chester, Leicester, Oxford and Exeter.
Organisers have called for a carnival atmosphere, but a huge police operation is taking place in central London to prevent any disruption to Mr Trump's trip.
British satire on display
By Marie Jackson, in Parliament Square
We were promised a carnival atmosphere but it feels like we're still waiting for the bongos to arrive.
What we do have is British satire on display for the masses of TVs crews and cameras from around the world.
Outside the House of Commons, there's the Trump baby Blimp grasping his mobile phone poised to be launched in to the grey skies.
Two men are selling toilet paper branded with Mr Trump's face – "America's number one for your number twos" at two for £5.
And there's a man dressed as a gorilla, with the face of Mr Trump locked in a cage alongside a jail-suited Boris Johnson, his blond hair uncannily like Mr Johnson's own.
Not so funny are the more serious protesters, carrying banners calling to Lock Him Up and another saying Trump is a danger to the world.
A group of work colleagues on holiday from Belgium gave up a day taking in the sights of London to join the protest.
"He called Brussels a hell-hole," said Deborah Debbaudt, from Ghent. "We just don't like him."
Alex Kenny, who will join the Stand Up To Trump protest in the capital, told BBC Breakfast that Mr Trump's views are "destabilising and polarising the world".
"All people representing different strands today are coming together to show people in America that we do stand in opposition – not just to the person, but the ideas and the kind of world view he wants to put forward," he said.
Labour leader Mr Corbyn – who boycotted the state dinner – will be joined at the rally by members of other political parties including the Liberal Democrats and the Green Party.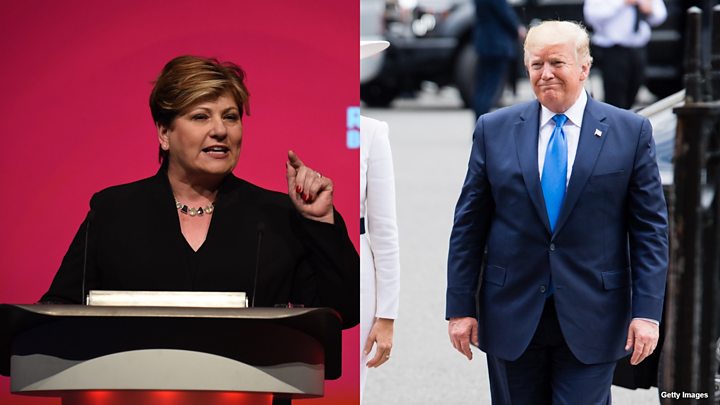 Speaking to the Today programme, shadow foreign secretary Emily Thornberry said: "If [Mr Trump] wants to see us, we're more than happy to see him. But we don't think that it's appropriate for him to have a state visit… A state visit is an honour, and we don't think this president deserves an honour."
Mr Corbyn tweeted that the protest was "an opportunity to stand in solidarity with those [Mr Trump has] attacked in America, around the world and in our own country" including Sadiq Khan.
Analysis: A barometer of political power
By Laura Kuenssberg, BBC political editor
Mr Trump relishes baiting those who disagree with him, and taunting the media. Mrs May gives the impression she would rather be left alone with her red boxes.
This time that difference is all the greater because the prime minister is on her way out of the door, while the president seeks another term in office.
They will have some discussions on Tuesday certainly, but don't expect dramatic joint announcements.
If the political outcomes are a barometer of power, the truth is that Theresa May's is fading – with the US and Donald Trump having at least half an eye on who is coming next.
Just before landing on UK soil on Monday, the US president reignited his political feud with the mayor of London, calling Sadiq Khan a "stone cold loser".
A spokesman for Mr Khan said the "childish insults should be beneath the president of the United States".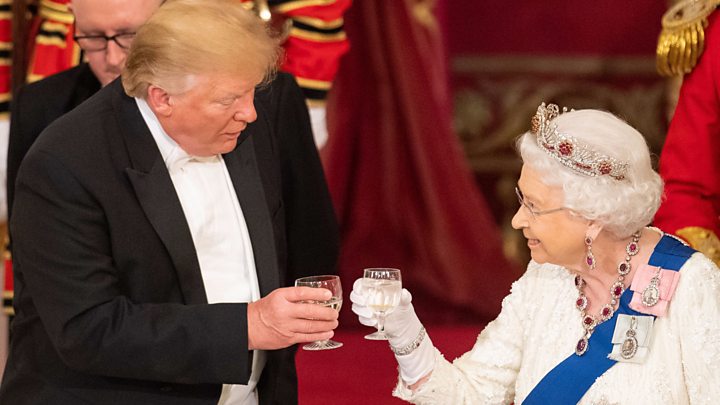 On Monday Mr Trump was welcomed by the Queen and had lunch at Buckingham Palace with senior royals. He also visited Westminster Abbey and had tea at Clarence House with the Prince of Wales and the Duchess of Cornwall.
He attended a state banquet at Buckingham Palace in the evening, at which Mr Trump praised the "eternal friendship" between the UK and US.
The Queen said the countries were celebrating an alliance which had ensured the "safety and prosperity of both our peoples for decades".
The president's visit coincides with the commemorations for the 75th anniversary of the D-Day landings, which the Queen, Mr Trump and other heads of state will attend at Portsmouth on Wednesday.
Analysis
By James Landale, BBC diplomatic correspondent
Donald Trump may deliver his messages hard and from the hip, firing off tweets and juicy quotes.
But the British political establishment is more subtle in the way it sends its diplomatic signals.
The Queen used her banquet speech to remind the president that the international institutions set up after the World War Two were designed to ensure the horrors of conflict were not repeated.
Theresa May presented Mr Trump with a framed copy of the Atlantic Charter, a set of principles centred on freedom and cooperation agreed by Winston Churchill and President Roosevelt in 1941 that formed the basis of many post-war institutions.
Both have been seen as a thinly-veiled message to a president who has repeatedly shown his disdain for multilateral organisations such as the United Nations and Nato.
Equally, the Queen in her own way has placed a small and utterly deniable distance from the president.
Her welcome has been warm and complete but she has not had Mr Trump to stay at Buckingham Palace – too much building work, naturally – nor will she attend his dinner at the US ambassador's residence – one for Prince Charles, you understand.
And Her Majesty's decision to put Eton Mess on the menu at the banquet has been seen by some as a tongue in cheek warning for a president who arrived telling newspapers his favourite Old Etonian, Boris Johnson, would be an "excellent choice" to replace Mrs May as prime minister.
All deniable, all open to accusation of over-interpretation. But remember: these state visits are highly choreographed and nothing is said or done without reason.